Everyone who comes to the museum undoubtedly has their favorite room, favorite picture, or favorite artifact.  But what about the staff? We challenged our curator to answer this for Ask a Curator Day. We decided that our curator shouldn't be the only one who got in on the fun, so we asked several members of the staff what they would save and what they would want in their own homes. Here are a few highlights from their responses:
If you could save one object in the house from a fire, what would you save?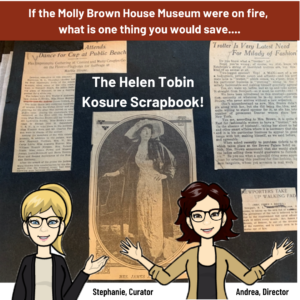 The Helen Tobin Kosure Scrapbook
This is one of our newest and most exciting acquisitions! This scrapbook was created by Margaret's niece, Helen Tobin Kosure. Helen's mother, Margaret's sister-in-law, passed away from illness when Helen was just five years old. She and her three siblings, Grace, Frank, and Florence were left in the care of Margaret and J. J. Brown, who raised them as if they were their own children.
Through the years with Margaret, who was like a mother to her, Helen collected photographs, articles, brochures, letters, and other original materials about Denver and Newport, about the many socialites and royalty with whom they rubbed elbows, about Margaret's philanthropic and political achievements, about both World Wars and the Titanic. Helen eventually compiled these documents into a scrapbook that illustrates so much about their lives. This artifact was recently donated to the Molly Brown House Museum by Helen's descendants, Scott Vollrath and Carol Marenholz, and gives us invaluable insight into Margaret's life in the 1910s until her death in 1932.
Margaret's Porcelain Chocolate Pot:
A favorite among our staff who loves hot chocolate, this pot belonged to Margaret and passed at the time of her death to Ella Grable, Margaret's maid and housekeeper who also managed the house in the late 20s when it was a boarding house. The chocolate pot was donated to the museum by Ella Grable's Daughter-in-law.
Margaret's Letters:
Ella Grable also kept a series of letters and telegrams sent to her by Margaret from destinations across the globe. This one is from when Margaret was staying at the Ritz in Paris. These letters tell us about Margaret's travel experiences and also about what was happening at 1340 Pennsylvania when it was a boarding house.
Romanov Umbrella Holder:
We can only speculate where and how Mrs. Brown received her brass Romanov pieces, including this umbrella stand and a brass pitcher. She traveled to Russia during her lifetime, but she was also close friends with Princess Stephanie, who married into the Romanov family. They fought for women's suffrage together and went to D.C. to march and appeal to President Coolidge. These pieces were donated to the museum by Percy Metz.
What object would you want in your own home and why?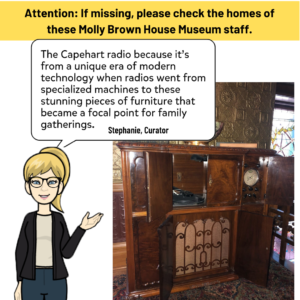 Capehart Radio:
In 1932, Margaret Brown preordered a new Chippendale style Capehart Radio from a local store in Denver, Knight-Campbell, to replace her old radio at 1340 Pennsylvania. Margaret put down $150 at Knight-Campbell on 16th and California in 1932 for "the latest invention, which housed a record player with automatic turner and changer, short wave, and radio. It cost $1,185. She wanted the cabinet to be Chippendale style."
Mrs. Brown died later that year. It was not delivered to Denver until 1936, at which point Mildred, Lawrence Brown's wife, and Margaret's daughter-in-law, completed payments on the radio and used it in their own home. Eventually, Larry's son, Larry "Pat" Brown Jr. sold it back to the servicing company who later sold it to the donor's father, Leeman Brooks. It was brought back to the museum in 2008 by Chris Wilson and Theresa Brooks, who inherited the radio from Leeman Brooks (her father), who bought it from Emil Bernt.
Stained Glass windows
Manufactured by Watkins Stained Glass, a Denver company, these stained glass windows are believed to have been installed in the house by the Large family, the first owners of 1340 Pennsylvania St. You can read about them in past blog posts here and here.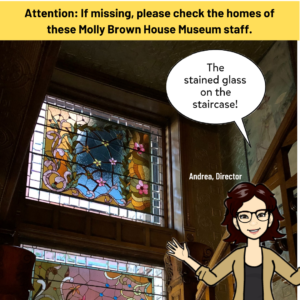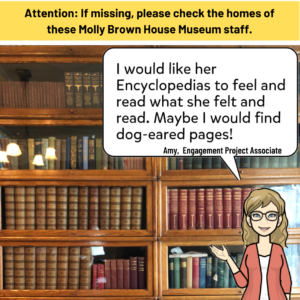 Margaret's Cyclopedias
This set of the Annual Cyclopedias dating to 1874 belonged to Margaret and the Browns. The cyclopedia volumes cover the important events of the year as well as information regarding biographies, literature, science, agriculture among other things. This set was given to Eleanor Gemmill by Margaret and was later donated to the museum.