The Molly Brown House Museum offers a variety of programs for homeschool families.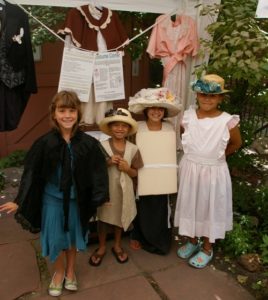 Homeschool Days
at the Molly Brown House Museum
Homeschool Days offer non-traditional students the same opportunities to come visit the museum as traditional students. Homeschool Days include specialized programs and hands-on activities. Please read the "Details and Frequently Asked Questions" section below before filling out the interest form (see below).
Download our 2022 Homeschool Day flyer here.
Building the Titanic
April 4, 2022 – SOLD OUT
April 5, 2022 – SOLD OUT
April 11, 2022 – SOLD OUT
9:30-11:30  |  11:30-1:30
Travel along with the Titanic, from inception to iceberg. Learn how crews built the largest man-made object at the time, how and why the ship sank, and who some of the builders, designers, and passengers were.
Molly the Activist
May 2, 2021
9:30-11:30  |  11:30-1:30
Margaret "Molly" Brown was involved in everything from politics and reform efforts to women's suffrage. Learn about several of the causes she was involved in to help all Coloradans and how to engage in your community today.
Colorado, My Home*
September 13, 2022
9:30-11:30  |  11:30-1:30
What makes Colorado, Colorado? From farming to mining, the rivers to the railroads, learn about the natural resources and industries that built Colorado.
*Location TBD
Trick or Treat?
October 4, 2022
9:30-11:30  |  11:30-1:30
During the Victorian era, the celebration of Halloween took hold in America and many of today's customs were developed. While costumes and decoration are now different than those in "Molly" Brown's time, the mystery and surprise of Halloween is a sentiment we still celebrate.
You're Under Arrest!
November 1, 2022
9:30-11:30  |  11:30-1:30
Police officers in early Denver used scrapbooks to keep perps straight. Figure out the clues to solve the crime as you create your own lawman scrapbook!

Deck the Halls
December 6, 2022
9:30-11:30  |  11:30-1:30 
We're decking the halls Victorian-style! Have you ever wondered where some of our most beloved Christmas traditions come from? Come find out as we explore what Christmas was like for a Victorian family like the Browns!
Details and Frequently Asked Questions
How do I register?
1. First, after reading this FAQ section, let us know you are interested in attending by filling out this form.
2. Look for an email from us. We will confirm whether or not we can accommodate your family and then email you a confirmation and invoice payment link.
3. Pay your invoice. Payment is due within three days of your confirmation email, or your reservation will be canceled. Invoices will come from PayPal so be sure to check your junk/spam mail as sometimes the invoice emails end up here.
Do I have to register and pay in advance?
Yes.  Due to ongoing social distancing measures, our capacity is severely limited. This means that many of our programs fill up months in advance, so in order to reserve your space, advance registration and payment is required. This is true whether you are registering for a program in one month or or 3 months from now.  In either case, payment is due within three days.
Why can't I register for any programs past May?
Due to ongoing issues with registrants not showing up for programs, we are only allowing families to sign up for programs a few months in advance, as opposed to all 2022 programs. We will open up registration for fall programs towards the end of spring.
How much does it cost?
$13 per student. One non-participating adult is free; additional non-participating adults are $5. Siblings may attend for free, however, if they wish to participate in the activities and take-home components of the program they need to be registered. The same is true for adults who would like to participate in the take-home components of the program. Space is limited. Advanced registration is required.
If we can't come, are registrations refundable?
We typically do not offer refunds for program registrations.  If your plans change and you can no longer make it, as long as you let us know two-weeks or more before the date of the program, we can generally transfer your registration to another program or event, provided there is space. You would still be responsible for any difference in cost, if one exists. If you let us know less than two weeks out, there are no refunds or transfers.
Can younger siblings attend?
Siblings may attend for free, however, if they wish to participate in the activities and take-home components of the program they need to be registered as participants.
As an adult, do I get to participate in the take-home activities?
If you would like to participate in the take-home components of the program, you will need to register as a paid participant. This helps ensure that we have enough supplies for everyone. When you complete the interest form, you will see an option to mark that you would like to register as a participating adult.
Will social distancing be enforced?
Families have the choice of opting into being at stations by themselves or with other groups. Please indicate if you would prefer to be by yourself or with 2-3 other groups. There is a question on the interest form for this.
Will my friends and I be able to attend together?
If you would like to be with another family, let us know on the interest form (there's a space for this).
When do programs take place?
Unless otherwise noted, 2022 Homeschool Days take place from 9:30-11:30 and 11:30-1:30 on the days listed above.
What ages are your programs recommended for?
Our programs are recommended for ages 6+.
Will my group get a tour of the museum?
Each of our homeschool day programs has a different theme. In each program, you will learn a little bit about the Browns and Victorian life in Colorado. You will not get a full tour of the museum during a homeschool day program, however, activities take place in rooms throughout the house so you will get to see different parts of the house.
Are masks required?
No, at this point masks are no longer required.  Visitors and staff are encouraged to wear them, especially if unvaccinated.
We hope you will join us in 2022 for one or more of our homeschool days!
To complete the interest form (as described above), please click on the button below.