In 1932, after Margaret Brown's death and during the Great Depression, what we know today as the 'Molly Brown House Museum' was sold to a private buyer. Throughout the years, various owners altered the house dramatically, including creating twelve separate rooms for renters and redesigning the appearance of the house to reflect modern styles. 
In 1958, Mr. Art Leisenring purchased the house, renting rooms to gentleman boarders, and later on, leased the house to the city to use as a Jane Addams Hull home for girls. However, Mr. Leisenring wanted to preserve the history of Margaret Brown as she was being immortalized on both stage and screen in the Unsinkable Molly Brown. Leisenring was concerned about the urban renewal occurring in Denver, so he, along with other citizens, appealed to the Governor's wife for help.
This group of citizens formed Historic Denver, Inc. and began the effort to save the Molly Brown House from demolition. Due to the media appeals and fundraising efforts, Historic Denver, Inc. was able to purchase the house and begin restoration of the house. Through paint analysis, architectural research, and studying original house photographs from 1910, the house has been carefully restored to its original Victorian splendor.
Many items were gifted back to the Molly Brown House Museum in 1971 to help the museum get started. The list of items gifted back to the museum is vast, such as silverware, china, and furniture. However, we want to give you a peek into the day-to-day life of Margaret Brown and her family. The items we wanted to highlight include a chandelier, a Singer sewing machine, quilts, and a baby doll. While we are only giving you a glimpse into this specific collection, it is important to note that without these items, the Molly Brown House Museum would not have been able to get started.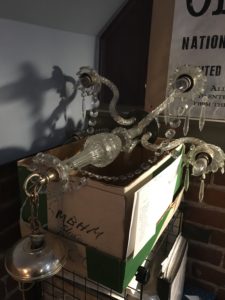 Mr. Sanford Shepherd bought a chandelier at the 1932 auction held at the Molly Brown House after Margaret Brown passed away. During the late 1950s/early 1960s, Father Donald W. Lloyd received the chandelier as a gift from Mr. Sanford Shepherd. The chandelier is cataloged as a "crystal chandelier with five arms with large beads, either crystal or plastic, and tassels." The chandelier is electric and the manufacturing label relates that the chandelier is an "E-12305 Underwriter Laboratories, Inc" model. While we are unsure where Margaret would have hung this chandelier, it is possible that it hung in the second or third floor hall, or even in the library. Underwriter Laboratories, Inc. was founded in 1894 and their mission was to promote safe living and working environments. By 1906, Underwriter Laboratories, Inc. inaugurated their label service to certify individual products meeting standards tested by Underwriter Laboratories, Inc. investigations, carried out both in the laboratories and on the assembly line. Underwriter Laboratories, Inc. continues to this day and the company is dedicated to advancing the Underwriter Laboratories mission through the discovery and application of scientific knowledge.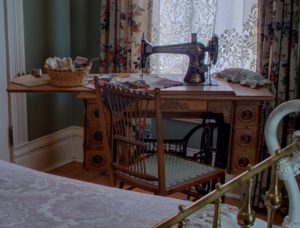 Another item of note from our original 1971 collection is a 'Singer' sewing machine dated to 1910. The sewing machine is in an oak desk case that contains a hinged lid with three drawers on each side. The sewing machine is made out of metal and is trimmed in gold Egypitan figures. The case of the machine has applied leaf trim and some beading. While this sewing machine is worth upwards of $1000 today, back in 1910, the cost for a 'Singer' sewing machine would be between $36.80-$41.60. For those middle and upper class ladies at home, the sewing machine was a useful tool.  Able to make 250 stitches per minute in its earliest incarnation, it greatly sped up the process of sewing straight seams and was—as author Ella Rodman Church states in her 1882 book The Home Needle—a "valuable aid in lightening the sewing of a household."  
The style of quilting shown in the photograph above is called "Crazy Quilts." Crazy Quilts were very popular in the late 1800s and early 1900s. The name of these types of quilts make sense when you look at the irregular shapes, changing fabric, and lovely embroidery. These are considered to be one of a kind quilts. According to American Patchwork and Quilting. "Philadelphia's 1876 Centennial Exposition is also considered a dynamic influence in crazy-quilt design. At the entrance to the most popular Japanese Pavilion, the image of a priest on a paved road introduced the concept of asymmetry to more than ten million people who attended. A cracked-ice, mosaic pattern on the path as well as other unfamiliar art forms—with images of storks, owls, fans, and flowers—were exotic attractions for Americans. They had become enchanted with anything Oriental and were replicating the look in their art, including quilts, dinnerware, furniture, and other decorations." The Molly Brown House Museum possesses two quilt blocks that can be described as Crazy Quilts. The first quilt block that we have in our collection (seen above) is made of cotton, satin, and velvet and contains peaches, reds, blues, browns and yellows in the patches. The quilt patch contains multi-colored stitching of the letters of the alphabet, as well as the words "mama" and "papa" and hand-stitched flowers. The backing of the quilt is blue cotton with white flowers. The second quilt block that we have in our collection (see below) is made of cotton and satin. It contains patches of browns, blues, yellows, and purples. This patch has orange stitching with the phrases "ES," "YW," and "XMAS" sewn into the quilt.
Another type of quilt we have in the 1971 collection is a baby quilt. This pink and white quilt, made of cotton and satin, with little pink yarn knots on the front and a pink bow in the corner, was made in 1915. At the beginning of the 1900s, fabrics were produced using children's themes. According to Stella Rubin in Miller's American Quilts: How to Compare & Value, "The view of children began to change during Victorian times. In 1912, the famed quilt designer Marie Webster created one of the first patterns for a small quilt with a juvenile theme."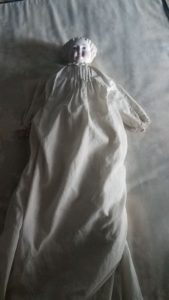 A porcelain doll (or so-called bisque doll) is a doll that is wholly or partially made out of bisque porcelain, a type of porcelain that is unglazed and has a matte finish to replicate human skin. Bisque dolls were the most popular from 1860 to 1900 in France and Germany and became fashionable as children's toys well after World War I. According to The History of Dolls, "Bisque dolls are rarely made completely out of bisque because that makes them heavy and fragile. Most often they are made from the combination of materials. The head of the doll is always made from bisque but the body is made of cloth, leather, wood (with joints), papier-mâché or composition, which is a material made of pulp, sawdust, glue, cornstarch, resin and wood flour. Eyes of dolls are made of glass. Head is painted in many layers in order to get skin tones and facial expressions." The porcelain doll that we have in the 1971 collection is a soft-body doll with a porcelain head that we believe was produced between 1870-1890. This doll has blonde hair, blue eyes, and is wearing one undershirt, two underskirts, and one long dress. The donor of the doll believes it to be of French origin. This specific doll belonged to Jane Abigail Parriott Grant when she was 8 years old. The doll went with her family from Ackley, Iowa to Minnesota before it became a treasured part of the Molly Brown House Museum collection.
It is because of the effort from the original Historic Denver, Inc. that the Molly Brown House Museum is up and running today. Between the restoration of the house itself to building the collection we currently have, Historic Denver, Inc. has been able to successfully share the stories of the "Unsinkable" Margaret Brown. Interested in seeing some of these pieces in person? Come check us out at 1340 Pennsylvania Street in Denver! We would love to have you as our guest. 
By: Emily Holda, Molly Brown House Museum Intern