By the tu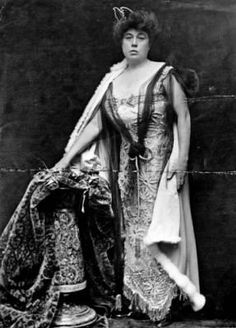 rn of 20th century, Newport, Rhode Island had grown from an important east coast maritime center into the "Queen of American Resorts." Newport was a summer retreat for America's most wealthy; a place where gilded mansions dotted the coastline, and grandeur and opulence were in great abundance. Newport offered a cool seaside respite for those wishing to
escape the summer heat, and it was a getaway from large, and sometimes exasperating, Northeastern cities like New York, Philadelphia and Boston. Famous Newport residents included the Vanderbilt and Astor families, including our very own Margaret Tobin Brown.
Margaret had visited Newport regularly starting in 1909, and in 1913, Margaret began leasing a home located at 44 Bellevue Avenue, Newport's most exclusive thoroughfare. She would call this place "Mon Etui" (see picture. This photograph is the only photograph taken of Mon Etui. The home has since been torn
down). It was modest in comparison to the "cottages" of her friends who lived nearby, such as the Vanderbilt family, who had a residence down the street called "The Breakers," a 70-room, 125,000 square foot mansion that sat on 13 acres with the ocean as its backdrop. Margaret would also lease another cottage next door to Mon Etui at 40 Bellevue Avenue called the "Club Cottage." Both of her homes were owned by, and located adjacent to, the then popular and refined Muenchinger-King Hotel.
Newport was Margaret's home away from home. Her cottages were always full with family and guests, and she was very much a part of Newport's social scene. She was listed regularly on Newport's social index from 1913 through 1920. Shortly after she began renting Mon Etui in 1913, a reporter for the Newport Herald wrote that Mrs. Brown had "…thundered in
to Newport. This season she is entertaining society in a lavish manner. (I mean she entertains them at her home, and now only by the things she says.) Newport is entirely conscious that she is present, and they say she is the best-dressed woman in the place" (Iverson, 186).
In another article, the Newport Herald described her as one of the most unique figures in Newport social life, whose home had "become a rendezvous 'or people of taste and accomplishment" (Iverson, 187). Not only was Margaret Brown an excellent hostess, but as Kate Iverson in her book writes, many of Margaret's contemporaries, many of whom were born and raised on the east coast, were drawn to her out of their fascination with American West. Margaret, who loved Western culture in all its multicultural complexity, was happy to oblige with telling her life experiences in Missouri and in Colorado (Iverson, 187). Despite the fact that she might not have been as wealthy as her neighbors, Margaret Brown was welcomed and revered in Newport society.
Newport not only offered fun and leisure for Margaret, but it also was a place of refuge throughout a difficult time in her life. She and J. J. Brown had sep
arated in 1909, and although they never divorced, their years surrounding the separation were a trying time for her. Whereas separation and divorce were frowned upon in most other places and social circles at this time, it was accepted in Newport.  With a slate of social events to
occupy her time, Newport was no doubt a place of escape for Margaret, and it held a special place in her heart for her entire life.
Written by Brooke Traylor, Education Intern  
Suggestions for Further Research and Reading:
Check out the Newport Preservation Society's website to find out more about Newport's gilded mansions that still stand today: http://www.newportmansions.org/
Or check out the Newport Historical Society's website for more Newport history: http://www.newporthistory.org/
Bibliography
Iversen, Kristen. Molly Brown: Unraveling the Myth. Boulder, CO: Johnson Books, 1999.
The Preservation Society of Newport County. A Guidebook to Newport Mansions. Newport, RI.