Classroom Outreach Programs
Can't make the trip to the Molly Brown House Museum? Let us come to you! Our innovative and interactive programs will bring history to life with artifacts, historical facts, and fun activities! 
For only $100.00 per program, museum staff will bring history alive in your classroom!

Thanks to the generosity of the Scientific and Cultural Facilities District, both on-site and outreach programs can be offered at a low- or no-cost. Call 303.832.4092 x20 for more information on available scholarships!
Denver Grows! (3rd-5th grade):
How did Denver become Denver? How long was Colorado a territory before it became a state? Who lived here before American settlers arrived? Learn the answers to these and many other questions as we travel through time as Denver grows from a mining town to a great urban center.
New! The Different Worlds of the Titanic: (3rd-5th):
Who were the people aboard the Titanic? What can the objects and documents they left behind tell us about their worlds? In this interactive program, students will become someone who sailed on the Titanic and will compare and contrast their experiences on and off the ship with the lives of other passengers and crew.
New! Exploration and Survival (4th-6th):
Explore history from the point of view of the people who explored and survived in our state. . Using primary and secondary sources, along with artifacts/replicas, students will explore the lives of miners, indigenous people, fur trappers, and pioneers to gain a greater understanding of what life what like in early Colorado. This is a 75 minute program.
Lego City (2nd-6th grade):
Now longer for even more learning fun! Build you own cities both past and present while becoming a historic preservationist. Learn about saving historic structures, the evolution of a city, and the importance of historic preservation in our most popular program! This is a 75 minute program.
Molly the Activist (3rd-6th grade):
Margaret "Molly" Brown was involved in everything from politics and reform efforts to women's suffrage. Learn about several of the causes she was involved in to help all Coloradans. This is a great program for any month, especially as we approach the Suffrage Centennial!
Quest for Gold! (3rd-5th grade):
Our ever popular Mining Lab has been updated, refreshed and has a new name! In this interactive hands-on program.  Students will study real mining artifacts to investigate what life was like as a miner and how exactly mining works.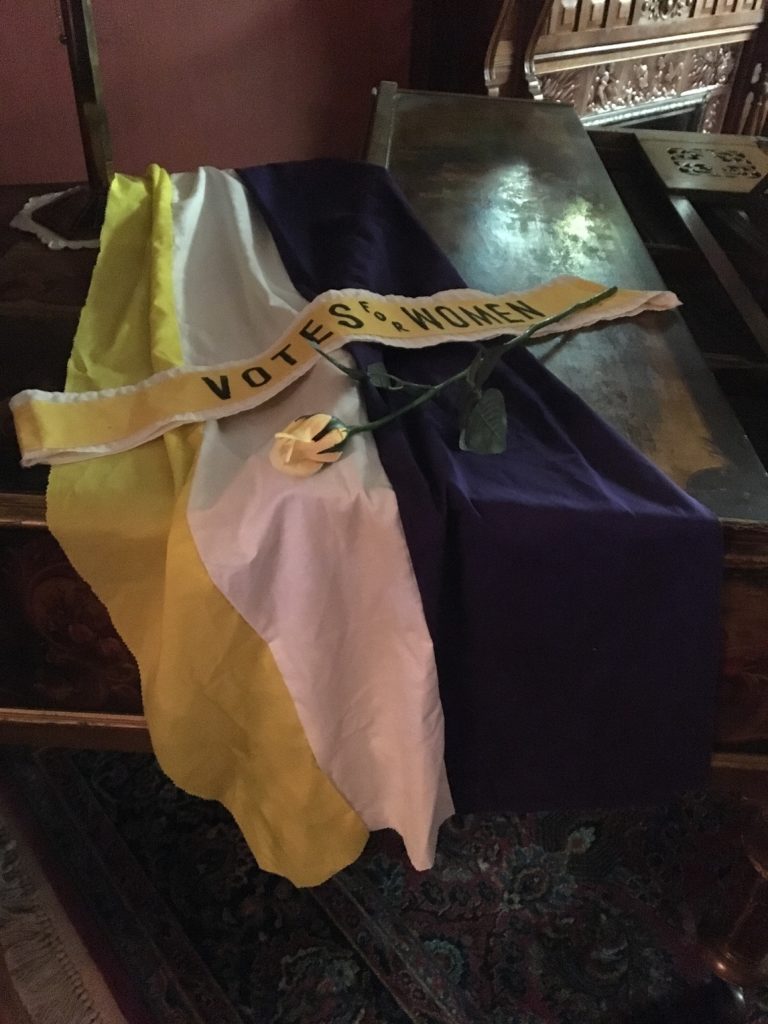 Science of Titanic* (3rd-5th grade):
How did a ship that was built to be "unsinkable" sink? In this program, students will learn about the scientific processes behind the building and sailing of the Titanic, how the Titanic was discovered 12,460 feet down, and will discuss what should be done with the wreck of the Titanic today.
*can be booked as a 60 or 75 minute program
Soldiers in Petticoats* (3rd-6th grade):
It's hard to imagine a time when women didn't have the right to vote, but it actually wasn't that long ago. In 2020, the United States marks the centennial anniversary of the passage of the 19th Amendment which granted women the right to vote. In this interactive program, learn about the Suffrage movement in Colorado and the United States, and analyze primary sources to draw conclusions about how the public felt about women's suffrage.
*can be booked as a 60 or 75 minute program
Updated! Titanic Shuffleboard (2nd-4th):
Now even more fun! Travel along with the Titanic, from inception to iceberg. Learn the history of the ship and that fateful night through a fun and interactive game played aboard Titanic–shuffleboard!
Women in Colorado: From Pioneers to Engineers (3rd-5th grade)
Did you know that Elitch Gardens was originally a zoo? Or that a female engineer working on the Eisenhower Tunnel opened up new job opportunities previously denied to women? Join us as we discover the impact women had on Colorado history…from pioneers to engineers!
Where in the World is Margaret Brown? (3rd-6th grade):
How did Margaret Brown travel? How long did it take her to get there? This interactive student program takes you across the world, as we try and figure out where and how Margaret traveled, how those technologies, and the world she lived in, changed over time, and what the societal motivations were for anyone traveling during this time period-all while letting primary and secondary sources be our guide!
Program Bundles
Looking to book multiple programs? Consider booking one of our program bundles! Bundled programs build off of one another and deepen your students understanding. Book a bundle and receive a 25% discount on your third program!
Bundled themes include:
The Titanic (The Different Worlds of Titanic, Science of Titanic, Titanic Shuffleboard)
Early Colorado (Denver Grows!, Exploration and Survival, Quest for Gold!)
Women's History (Molly the Activist, Soldiers in Petticoats, Women in Colorado)
History STEM (LEGO City, Science of Titanic, Where in the World is Margaret Brown?)
Working with Sources (The Different Worlds of Titanic, Quest for Gold!, Soldiers in Petticoats)
Best Of: (Denver Grows!, LEGO City, Quest for Gold!)