Classroom Outreach Programs
Can't make the trip to the Molly Brown House Museum? Let us come to you! Our innovative and interactive programs will bring history to life with artifacts, historical facts, and fun activities! For only $100.00 per program, museum staff will bring history alive in your classroom!
Denver Grows! (2nd-6th grade):
Travel through time as Denver grows from a mining town to a great urban center, this program fits in with Colorado and local history curriculum. This program will correspond with our new classroom curriculum book Discovering Denver: Brick by Brick (available here).
A Doughboy's Life (3rd-8th grade)
Learn and experience what life was like for American soldiers, including Margaret Brown's son, Larry, during World War I. A mix of activities, artifacts, and soldiers' firsthand accounts will teach students why soldiers fought, how they trained, and what it took to endure life in the trenches.
Lego City (3rd-8th grade):
Become a historic preservationist through this popular program! Build you own cities both past and present and learn about saving historic structures, evolution of a city, and the importance of historic preservation.
Mining Lab (2nd-5th grade):
This hands on program will allow students to learn about two different types of mining while understanding what life was like in mining camps. Touchable artifacts accompany this program such as miner's helmets and even gold!
Molly the Activist (5th-12th grade):
Take a look at Molly's involvement in politics and reform efforts including women's suffrage. This is a great program for any month, especially as we approach the Suffrage Centennial!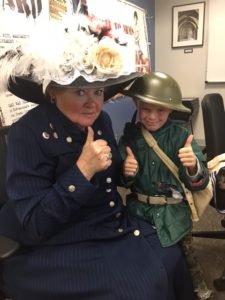 Science of Titanic (3rd-6th grade):
We all know that the Titanic sank after hitting an iceberg, but was that the only cause? In this program, students will learn about the scientific processes behind building and sailing of the Titanic, while also putting on their investigative hats as we discuss the myths surrounding the sinking and come to conclusions for ourselves!
Soldiers in Petticoats (3rd-6th grade):
It's hard to imagine a time when women didn't have the right to vote, but it actually wasn't that long ago. In 2020, the United States will mark the centennial anniversary of the passage of the 19th Amendment, which granted women the right to vote. In this interactive program, learn about the Suffrage movement in Colorado and the United States, along with how our very own Margaret "Molly" Brown was involved!
Women in Colorado: From Pioneers to Engineers (3rd-8th grade)
Did you know that Elitch Gardens was originally a zoo? Or that the building of the Eisenhower Tunnel was nearly derailed thanks to a female engineer? Join us as we discover the impact women had on Colorado history…from pioneers to engineers!
Broken up into research groups, using a research instrument, primary and secondary sources, students are tasked with becoming historians who need to piece together the history and importance of seven Colorado women! This is a great introduction to biography research projects and process.
Where in the World is Margaret Brown? (3rd-6th grade):
This student interactive program takes you across the United States, and the world, as we try and figure out where and how Margaret traveled, how those technologies, and the world she lived in, changed over time, and what societal motivations were for anyone traveling during this time period-All while letting primary and secondary sources be our guide! Since this is a "research based" program, it will be a great tool to help introduce the concept of "sources" to your students prior to a research project they may have assigned to them in class.