Looking for a speaker for your next get together or event? Look no further!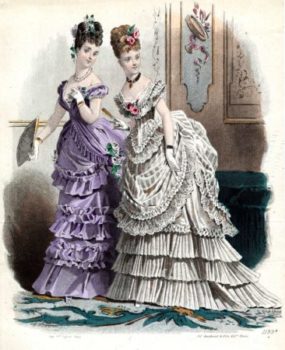 Speaker's Bureau
The Molly Brown House Museum offers a number of adult-oriented programs on the life and times of Margaret Brown. Our programs have traveled to book clubs, senior centers, women's groups and much more! Programs are available both in-person and virtually.
Soldiers in Petticoats: From Seneca Falls to Rocking the Vote!
It's hard to imagine a time when women didn't have the right to vote, but it actually wasn't that long ago. In 2020, the United States marked the centennial anniversary of the passage of the 19th Amendment which granted most women the right to vote. We'll take a look at how Margaret was involved in it all!
The Outrageous Times of Molly Brown
Trace Margaret "Molly" Brown's life from her early childhood in Hannibal, Missouri, to Leadville, Colorado, where she met and married J.J., and finally to her days of glory in Denver and New York. This program can be delivered by a costumed interpreter, depending on availability.
A Day in the Life of a Victorian Woman
Life was different then…harder, tougher…Come with us to the turn of the 20th century for an intimate glimpse of women's lives. Detailing all aspects of women's lives–from marriage to the home and the most popular- the corset!
The Sinking of the Titanic
It was a night to remember, and a night that no one who survived would ever forget. In this presentation, learn about how the Titanic sank in the early morning of April 15, 1912.
Denver Grows! The Establishment and Growth of Denver
Ever wonder how Denver got its name? We will explore the history of Denver and its growth in this presentation.
The Art of Victorian Dining
Put on your finest gown or tuxedo and take a step back in time to discuss the importance of dining in Victorian America. Entertaining at the turn of the century could make or break your social status.  Enjoy learning about food, dining customs and table settings in this illustrated slide show.
Restoring a Beauty: the Molly Brown House Museum
Ever wonder what it is like to restore a home to its original grandeur? Take a look into the past as we explore our long journey in the restoration of the Molly Brown House Museum.
We also offer the following seasonal programs which explore Victorian holiday traditions:
Christmas with the Browns
Explore Christmas traditions of early 1900s.
Victorian Halloween Traditions
An old holiday with fascinating customs, decorations and costumes.
Victorian Valentines
Learn about the origins, history and customs that surround this lovely holiday!
Programs within the Denver Metro area are $200 each (a surcharge may apply outside of this area). To book a Speaker's Bureau program, please email education@mollybrown.org or fill out the reservation form here.